From 2-spyware.com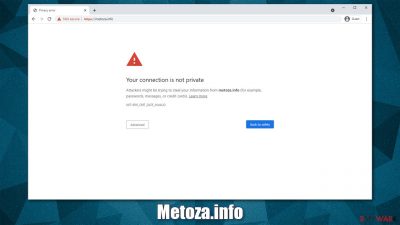 Potentially unwanted programs are very prominent, and thousands of users install them every day. While some people might get deceived by certain promises and install the app intentionally, most don't even notice how this sneaky software manages to get in. This is because of a deceptive distribution technique is known as software bundling[1] – where users are tricked into installing applications they otherwise wouldn't. Metoza.info is one of such deceptive apps, as it is not usually intentionally installed but along with freeware downloaded from third-party websites.
As soon as it manages to get on the system, it takes over the web browser immediately – be it Google Chrome, Mozilla Firefox, MS Edge, etc. The most significant visual and technical change lies within the alteration of the browser's homepage, which is set to Metoza.info.
The implemented search bar alters search results in a negative way. In fact, the website itself does not use a security certificate, which prompts Google to deliver a security warning and an error message NET::ERR_CERT_DATE_INVALID. To make matters worse, the search bar fails to produce any results at all, making it useless in the first place.