From 2-spyware.com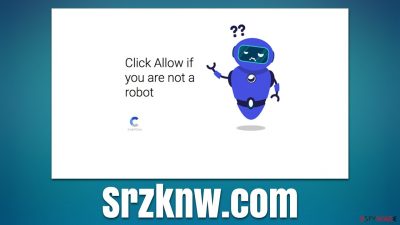 Srzknw.com ads are a mystery to many people, as they start showing up directly on users' desktops abruptly, without prior warnings. They also are not triggered by any actions that users perform on their computers – ads appear regardless of whether they are streaming a video, playing a video game, or visiting their favorite websites.
The truth is that the activity can only be present if the browser (Google Chrome, Mozilla Firefox, MS Edge, Safari, etc.) is running in the foreground of the background. Thus, if the app is not running in any capacity, the annoying Srzknw.com ads would not show up. So that is the deal here, and why is this happening?
There is only one way how users who start experiencing the mentioned symptoms can get affected by this, and that's by allowing the site notifications. It can be accomplished by pressing the "Allow" button within the prompt upon website entry. However, users mainly don't do it voluntarily and are rather tricked into it.