From helpnetsecurity.com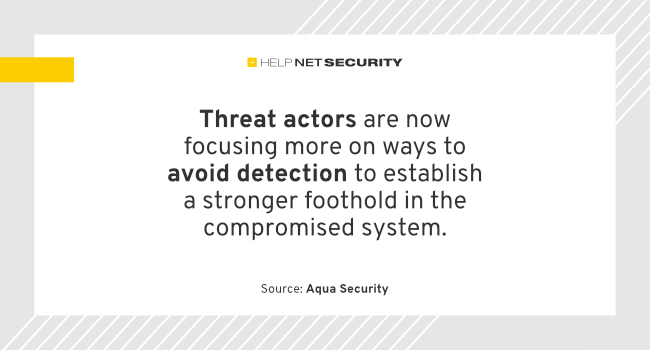 Aggregated honeypot data, over a six-month period, showed that more than 50% of the attacks focused on defense evasion, according to Aqua Security.
Threat actors avoid detection
These attacks included masquerading techniques, such as files executed from /tmp, and obfuscated files or information, such as dynamic loading of code.
In addition, in 5% of the attacks, threat actors used a memory resident malware. Compared with prior Aqua Nautilus research in 2022, there was a 1,400% increase in fileless attacks. This clearly indicates that threat actors are now focusing more on ways to avoid detection to establish a stronger foothold in the compromised system.
"Threat actors are more heavily focused on and increasingly successful at evading agentless solutions," said Assaf Morag, lead threat intelligence researcher for Aqua Nautilus. "The most persuasive evidence of this was our discovery of HeadCrab, the extremely sophisticated, stealthy, Redis-based malware that compromised more than 1,200 servers. When it comes to runtime security, only agent-based scanning can detect attacks like these that are designed to evade volume-based scanning technologies, and they are critical as evasion techniques continue to evolve."